May 22nd - Phuket, Thailand to Jakarta, Indonesia
9 hrs 35min non stop flying

A long flight lay ahead with a 9 hour flight to Jakarta. We decided to get airborne as early as possible, we were at the airport at 5am but when we got there there was no one else at the airport so we could not clear customs, immigration or get the weather. After 3 hours of waiting and paperwork we started PH-SMD.
We taxied to runway 27 (the same runway we landed on yesterday) and after takeoff turned south to pick up our track on climb to 10,000 feet. It was a cooler outside so the climb was better than expected. Our final cruise height ended than at 12,000 feet (outside air temperature 9 degrees, groundspeed 120kts with a 15kt headwind. On-route we had an excellent view of Kuala Lumpur (KL) and then Singapore. Singapore Airport could be seen from the left window and the skyscrapers of the city from the right hand side. We flew direct over the city at 11,000 feet, below in the harbor there were many ships docked.
Our handover to Jakarta was again made on HF as we could not raise them on VHF radio. 10 minutes to the boundary we reeled out the aerial and raised Jakarta Radio without any problem on 8.957MHz. Soon after we made contact on 119.2MHz, VHF. We were a little concerned that the relevant authorities in Indonesia would be informed of our arrival and clearance number. We had been advised that the civil authorities, military and ministry of foreign affairs all needed to be contacted. Our man on the ground, Mr. Ujang Suganda who organised the clearances assured us all would be ok.
Spectacular clouds could be seen as we entered Jakarta airspace. Towering Cumulus and Cumulus Nimbus thunder clouds were dotted around us. We weaved around towering clouds which had a base of around 8,000 feet and rose well above 15,000 feet. As we were already as high as we could go (12,000 feet) we could not climb above the clouds but we could go around the majority. For the few Cumulus clouds we had to fly through the turbulence was not that severe.
Our reason for a stopover of two nights in Jakarta is Alan's friend William Furney lives in Jakarta. William moved to Jakarta 5 years ago and is married to Sara, they have two children, Wallis and Reuven. William works as a foreign corespondent for a Spanish news agency and Sara is the Principle of an English school.
Landing at Halim International Airport (nearby Jakarta International) we were impressed by the wide selection of aircraft at the airport. Halim is a joint military and civil airport for light aircraft and executive jets. It also seems to be an aircraft graveyard with engineless aircraft parked around the field. Again we saw ATR42's at Halim, since leaving Europe at many of the airports we have visited the ATR is doing the short haul work.
We parked the aircraft and were met by a "follow me" truck which gave us a lift to the terminal. A quick visit to immigration and that was it (customs didn't want to see us). William pulled up in his car with his driver. It was good to see William again after 2 years. The traffic in Jakarta was worse than Dublin, it took us a hour to get back to the house with some adventurous driving on the way. William and Sara had kindly organised a Barbecue for us that evening. We spent the evening relaxing on the back verandah drinking Bombay Sapphire and cocktails. A very pleasant evening followed by a much welcome sleep after our long day. Tomorrow is a rest day to be spent sight seeing around Jakarta and planning for our flight to Bali on Saturday. Bali will be a 4 hour flight but with mountains rising to 14,000 feet and active volcanos on route we need to spend some time selecting the best route for the flight.
Many thanks to William, Sara and family for putting us up in Jakarta, a much welcomed rest stop. Jakarta was an impressive city (in spite of an incident in which we had some property stolen from William's car, something tourists are subject to anywhere in the world)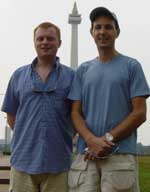 Alan and William in Jakarta