May 24 Jakarta to Bali, Indonesia
4 hrs 10 mins flying

Over the past few months many people have posed the question, "why visit Bali?" I guess this was in reaction to the bombings that occurred here 19 months ago and concern for the continuing terrorist threat that exists worldwide. Bali is a beautiful place that has been deeply affected by those tragic events and yet it still has to be seen for its beauty, its warmth and its people. For a long time Ireland was subject to similar views from its potential tourists and yet they still came to visit and enjoy what Ireland had to offer.
So World Flight came here to enjoy what Bali is all about. Indonesia is a complex country of hundreds of islands, housing some 800 million people all held together by a democratic government. Democracy came to this country about six years ago and it has adapted well but Indonesians still maintain that it is not truly democratic and will take another few years for this to be achieved. The country is finding its way slowly, holding on to some of its old ways and finding new ones that suit its culture.
Jakarta is a busy flowing city, which chokes itself in traffic jams and fumes. It is always rush hour here and the driving standards are not very conducive to long living. Yet when you get airborne from Jakarta Halim airport and climb to 11 000 feet heading for Denpasar on the island of Bali, you rise above all this. As you head east you are aware of the current unrest in Ache, which lies only a few hundred miles from our current position and of the potential target that Bali is for Islamic extremists and yet up here alone you experience the beauty of this country. Coastline that is hugged by clear blue water and to our right rising terrain covered in green lush vegetation. The volcanic mountains rise above our level and is breath taking to view from a near level height.
Our flight was pleasant with amazing views of mountains rising above the clouds (and above us). Many of these mountains are extinct volcano, some are still active. We flew from land to water crossing the islands of Indonesia and then Bali came into view. As the sun was setting our runway came into view. The runway threshold is right by the sea with water either side of the runway, this made for an interesting approach with windsheer.
On arrival at Denpasar airport it is hard to imagine that the island's tourism industry is struggling. The tarmac is busy with seven arrivals and as many departures in the short time we were there. A taxi driver reveals the true facts to us en route to our hotel. Where once Qantas operated twenty times a week they now fly in three times weekly and in spite of the constant stream of arrivals, the aircraft are near empty. It will take years for the islanders to regain what was taken from overnight. "I for one will return to this beautiful island in the Pacific Ocean".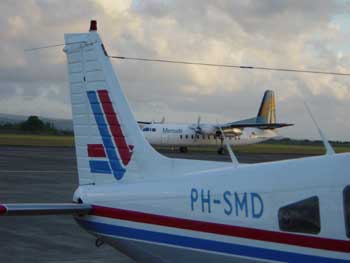 Landed and parked at Bali Airport.