May 27 Bali, Indonesia to Broome, Australia
6hrs 10 mins flying

This flight was short in duration but entirely over water. Getting through Bali, where once again we elected to handle ourselves, was relatively easy. Some low cloud provided light turbulence but this all cleared about forty miles off shore and we leveled off at 5500 feet, a level we would maintain until reaching the Australian FIR (Flight Information Region) boundary.
Bali advised us to contact Brisbane centre on HF radio but it was to be about 30 minutes before we found a frequency that they could hear us on. We had made contact with them by telephone the previous day so they were expecting us and we were comfortable entering Australia without radio contact. From the entry point at the boundary to Broome it is 470 nautical miles direct. It was great to hear Australian voices on the air again.
Our approach into Broome was started at thirty miles out to join a five-mile final onto runway 10. On arrival we were greeted by customs, agriculture and immigration, all of whom we had informed prior to our arrival. Australia is very concerned about the possibility of disease arriving from overseas so we where handed a spray, told to spray inside the aircraft, shut the door and wait for five minutes. With all the formalities complete we moved PH-SMD to the southern side of the airfield where it will remain for the next 10 days until we are ready to fly to Darwin.
We have been very warmly received here in Broome. It began with the airport radio controller welcoming us both back to Australia. Our accommodation is being sponsored by Moonlight Bay (email: moonlite@tpg.com.au), thanks to Martin and Kim and Michael Mullen for arranging everything. We have had a number of interviews by telephone to newspapers through the country. Local radio is very interested in our visit here and to date. We visited the local ABC Radio station and Calgari Radio.
PH-SMD will remain in Broome for maintenance while we travel to Adelaide. Our flights are being sponsored by Virgin Blue (www.virginblue.com.au) , who operate a weekly direct service to Adelaide.
In Broome we are having a 100 hour check carried out on the aircraft. For this check the aircraft is opened up and taken apart for inspection. The engine is examined, cylinders compression checked, spark plugs changed in all six cylinders, oil and filter change. The airframe is checked for cracks and over stressing. We got a head start by doing some of the work ourselves, taking the seats out, removing the HF radio and ferry tank and unscrewing access panels for the maintenance guys inspection. During the check we so far found that the voltage regulator was on the way out causing the amp metre to wildly fluctuate and our battery to overcharge. Better to change the regulator now before it failed onroute and we had to rely on the battery (which would only give us 4-5 hours of electrical power). Also the right tire was badly bulged and has to be replaced.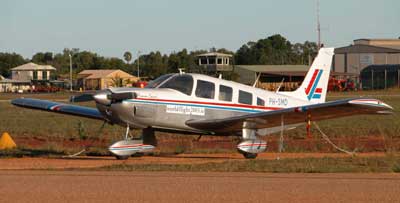 PH-SMD parked for the next two weeks in Broome while we have a
break and she has her 100 hourly checkup.
picture by Simon Wilson simon.wilson1@bigpond.com